Line Up.
This year once again we bring you another great mix of quality music drawn from the thoroughbred stables of Rock, Country and of course the Blue's.
Blues
Mike Elrington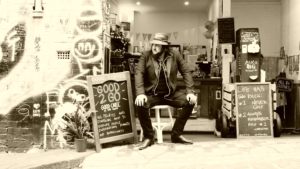 After 15 years, 7 full length albums, over 1000 shows all over the world, a beautiful 2 year-old daughter and a brand spanking new bouncing baby boy, you'd be forgiven for thinking that Australian blues/roots musician Mike Elrington would slow things down some, even just for a little while. But, with the release of his first completely acoustic LP, Two Lucky Stars and an East Coast Australian tour in the works, that's clearly not the case. Comprising of 14 tracks, Two Lucky Stars sees Elrington dig deep with trademark raw passion and a no-holds barred honesty, delivering listeners a heartfelt and eclectic mix of blues, roots, folk & swamp-rock. The album was produced by ARIA-award winning Peter "Reggie" Bowman, and features the talents of Chris Wilson on vocals and harmonica, Roderick McLeod on drums/percussion, Catherine Quirk and Michelle Meehan on Violin and Cello and extra vocal duties from June Harrison, Chase Bowman and Michelle Meehan. Elrington has captured his triple-threat prowess perfectly on this release. Not just with the booming vocals and blistering guitar playing he is well-known for, but also with some incredibly personal and sometimes confronting songwriting. One listen to the first single from the release "Build You Up (To Cut You Down)", and you can immediately feel the passion and pain as Elrington describes the constant struggle of attempting to find his way as an artist in on often cut-throat and unforgiving music industry. As he clearly states himself, "I can't be bothered sugar-coating it, this business is tough and can be incredibly soul-destroying, but rather than just keep it bottled up inside, I had to write about it, which was incredibly cathartic on this particular track." Title track "Two Lucky Stars" shines with a beautiful honesty and sincerity on the topic of difficult, yet unrelenting love. A warm, heartfelt ballad, this piece captures the softer, more sensitive side of this hard-edged blues man. In addition to the 9 original tunes on this release, Elrington has also included an eclectic array of covers, ranging from the reggae-groove of Ray Charles's "I Got A Woman", the low, powerful drone of Leadbelly's "Where Did You Sleep Last Night", and even the iconic theme from Top Gun -"Danger Zone", from Kenny Loggins, inspired by Elrington's childhood ambitions of flying fighter jets for the Air Force. Two Lucky Stars is out now thru Only Blues Music. Be sure to wrap your ears around the latest offering from one of Australia's finest and hardest working young Blues/Roots performers as he offers up his most personal and assured release to date. Mike Elrington will be performing at the the 2017 Festival.Please check local guides, or head on over to mikeelrington.com for the latest details.
Dan Howls and the Wolfgang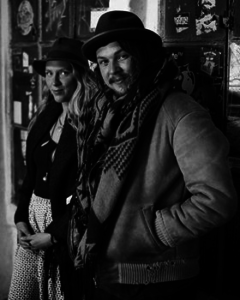 Dan howls, dark blues rock guitarist and vocalist exploded onto the music scene last year debuting at Western Australia's Nannup music festival.
His dark rough and sultry voice deemed as a mix between Tom Waits and Jeff Buckley accompanied by nothing but an electric guitar and a stomp on his foot took away the industry emerging artist award at the festival and won him time in the studio recording his first EP, Howler with James Newhouse (Ash Grundwald, The Kill Devil Hills).
After playing a summer of supports and headlines at packed shows in fremantle, Dan took his guitar to Germany to play the first official Kornern festival as well as filming a session on Cardinal sessions.
Returning to Fremantle Dan launched his EP at Mojos bar Fremantle with his explosive band (Josh Cutler, Callum Sealamb and Julia Weller) packing the house and continued to play packed shows around town. He has just been nominated for WAM's song of the year, is due to release a single in june with the band, and a full album on vinyl in October.
Dan's music shows a true love of the The Black Keys, Gary Clarke jr, Tom Waits and Screamin jay but with a menacing twist that creates an ecstatic lively, raw and original experience that leaves him covered in sweat And the audience in awe of how such a voice comes from this 26 year old Guitarist.
Country / blues/ folk
The Long Johns

The Long Johns are the twang of the banjo, the rumble of the sousaphone and the ring of the spittoon; the creak of the door, the crow of the rooster, the stomp of floorboards and the hammering of the chain gang all rolled into a tincture of dark country and barnyard bangers!
A four piece possé, The Long Johns come together to play an old timey flavour, peppered with goth-western tannins to deliver songs of hope, loss, rambling and hauntings.
The Long Johns have just hit the trails with stagecoaches blazing, boasting their debut EP "Last Man Standing", an ode to the last rooster alive in a hostile wonderland. The EP nesting heavily under the Roots umbrella features single "Club Footin' ".
Club Footin' is a double banjo tale of rambling to soothe itchy feet woes with a longing for the road. "Spooks" tells tales of those that go bump in the night and creeps through floorboards. Not complete without a ballad, a banger about chicken feed and a cryptic narrative of sweat, blood and some hay bailing history with "Bail Shed".
The Long Johns have already left a considerable mark on crowds for such a fresh act performing 4 big shows at Woodford Folk Festival 2016. Exciting and delighting crowds many times over, it's been a wicked running entrance for the Brisbane act to be performing their 3rd show on a packed Woodford stage.
Featuring a lineup of banjos, sousaphone, national guitar and pots 'n' pans, The Long Johns are: Sian Evans, Steve Buchanan, Skritch and Paul Watson; a rag tag troupe of Brisbane music veterans (Dubmarine, BULLHORN, Mary Trembles and The Rusty Datsuns to name a few).
The "Last Man Standing" Ep itself was tracked and produced at The Borough by The Long Johns much beloved skins man, Skritch (Mary Trembles, Tex Perkins and the Dark Horses, Gota Cola) who captured the band in a very live setting, all the while performing himself!
Like the cure-all tonics of old, The Long Johns are good for what ails you
Carl the Bartender

Carl the Bartender is the brain child of Hunter Valley based singer/songwriter Benjamin C Murphy. After touring for 4 years with bluegrass act, Good Corn Liquor clocking up some 500 live shows the band took a break when they lost their lead singer in a car accident in 2015 just 7 days after recording their second studio EP with Australia's own, Shane Nicholson. Once the worst was over, the remaining members rejoined to get back to enjoying their craft. Growing up together in North West NSW town, Gunnedah the boys have been playing music together for over 15 years.
Currently working on their debut album with a blend of country and blues, Carl the Bartender will be promoting the new music with a 6 week, 23 show tour of the East Coast of Australia from Melbourne to Cairns and home again, finishing in Newcastle in late October. You can follow the tour on instagram and Facebook via @carlthebartender
The Flamin Cane Toads.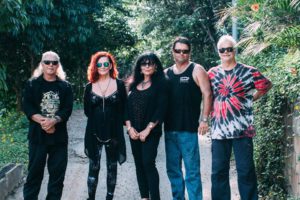 "The Flamin' Cane Toads" play songs penned by Sue and cooked up and seasoned by the band from a blend of up tempo jump blues and seventies flavored hard rock ( the music we grew up with ) , with some classic rock and blues songs we love to play thrown in for good measure.
Current line up includes, Sue Day lead vocals and chief song writer, Terri Weir back up vocals and tamborine , The original "Flamin' Cane Toad" – Anthony "Weirdo" Weir – well known for his excellent slide and lead guitar & vocals,Gavin Smith – power house drummer and featured vocals and Geoffro Thomas – putting the bass between Gav & Weirdo
Bigfoot Mafia.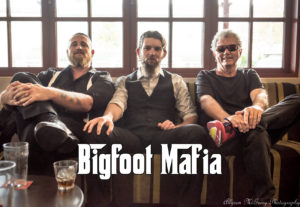 Bigfoot Mafia is a 3 piece rock band from Far North Queensland.
Blending elements of hard rock, classic rock and grunge to create their sound.
Formed in late 2016 by Lead Singer/Bass player, Rob Bryant, and Lead Guitarist, Jason Byrne.
Brian Pitcher later joined the band on drums in early 2017.
Expect to hear some killer riffs, some fat bass and some big drums.
Secret Tuesdays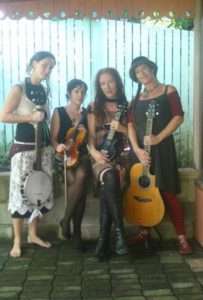 Secret Tuesdays are four bush girls from the hills of Far North Qld who pull out the rocking chairs for regular sessions involving banjo, fiddle, ukelele, keys, guitar, sweet harmonies, and several cups of tea. With loads of original bluegrass and folk inspired by Alison Krauss, Johnny Cash, Harry McClintock, The Audreys, Dusty Springfield, and a whole swag of stuff by Anon., they'll take you with them into an olde worlde of sea shanties, bar room waltzes and high noon adventures.